Support them before they lose interest in love and life with Squeeze Vita Sticks for Liver. Creamy treats with nutrients to support bile production, movement of cellular waste and liver health.
Sale price
$59.99
Regular price
$139.93
Unit price
per
Sale
Sold out
Guaranteed Analysis
Ingredients

Water, Chicken Breast, Salmon, Tapioca Starch, Cauliflower, Apple, Green Lipped Mussel, MSM, Vitamin E
View full details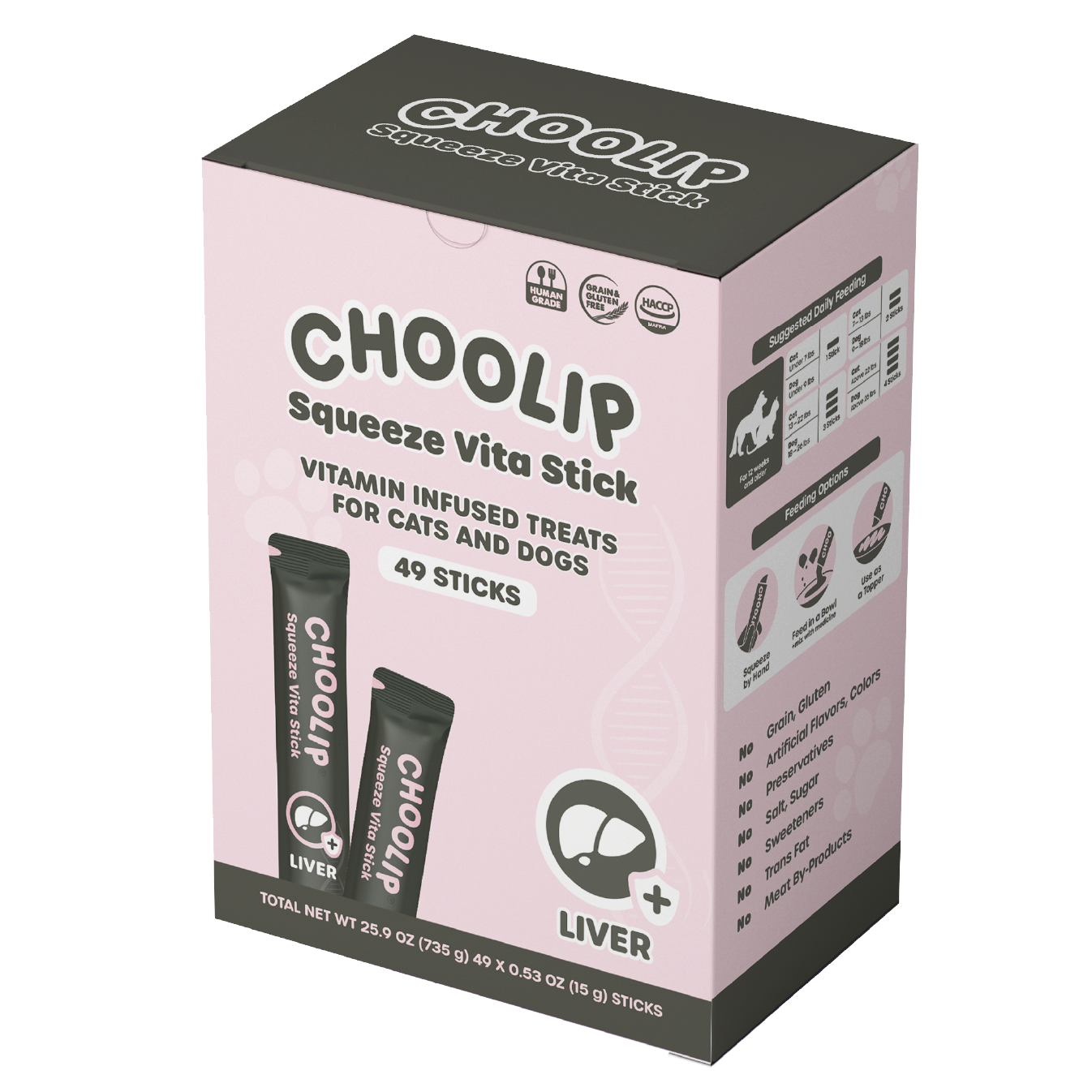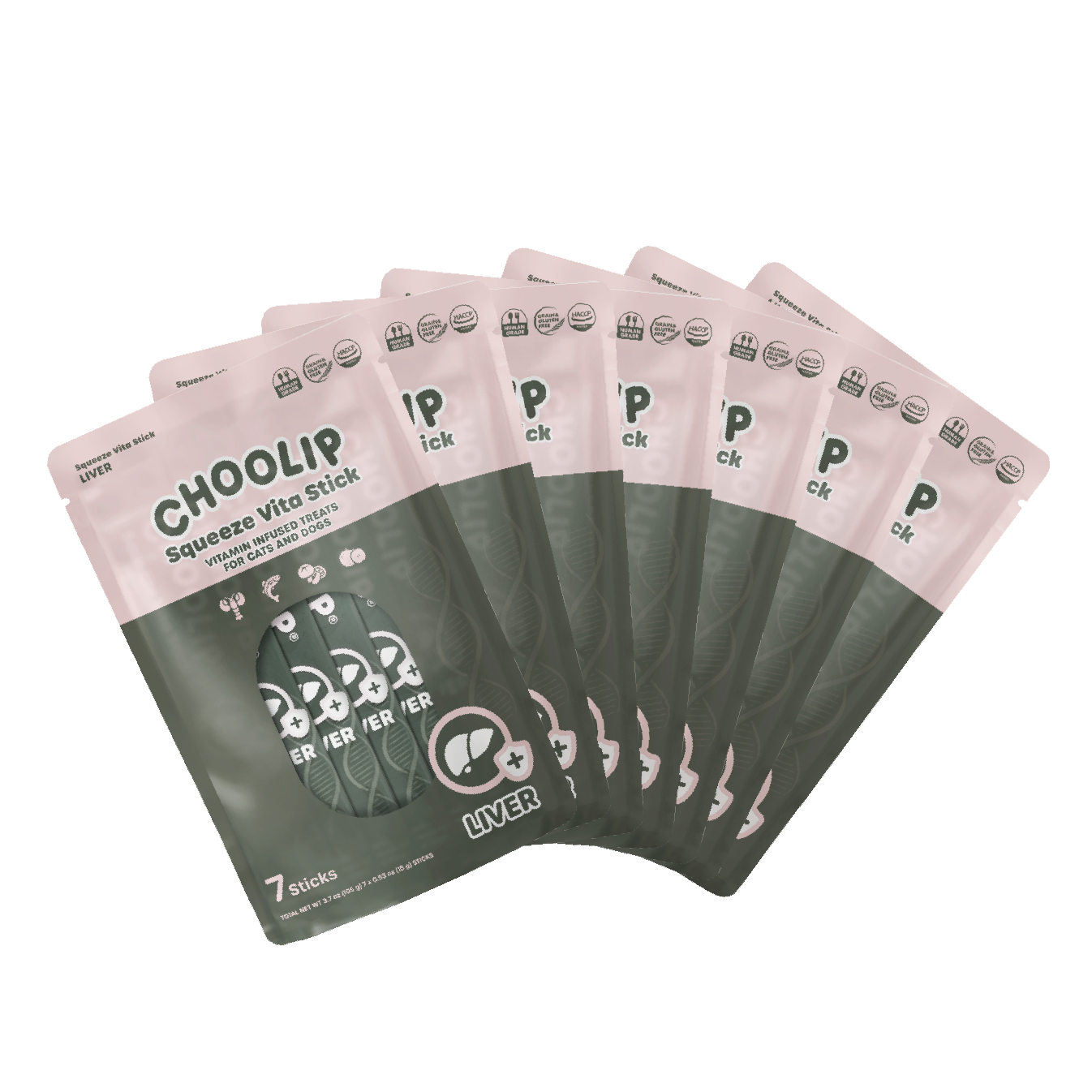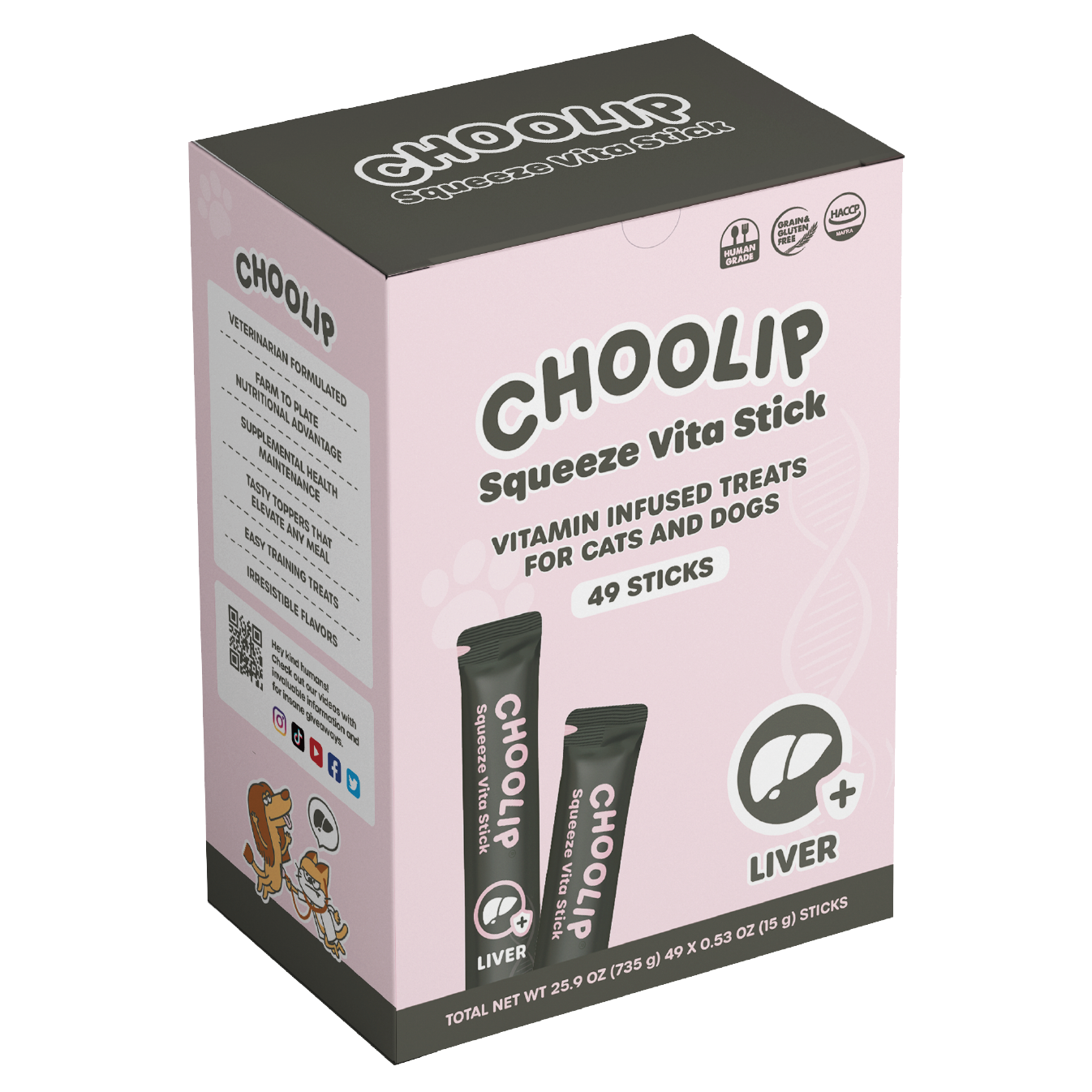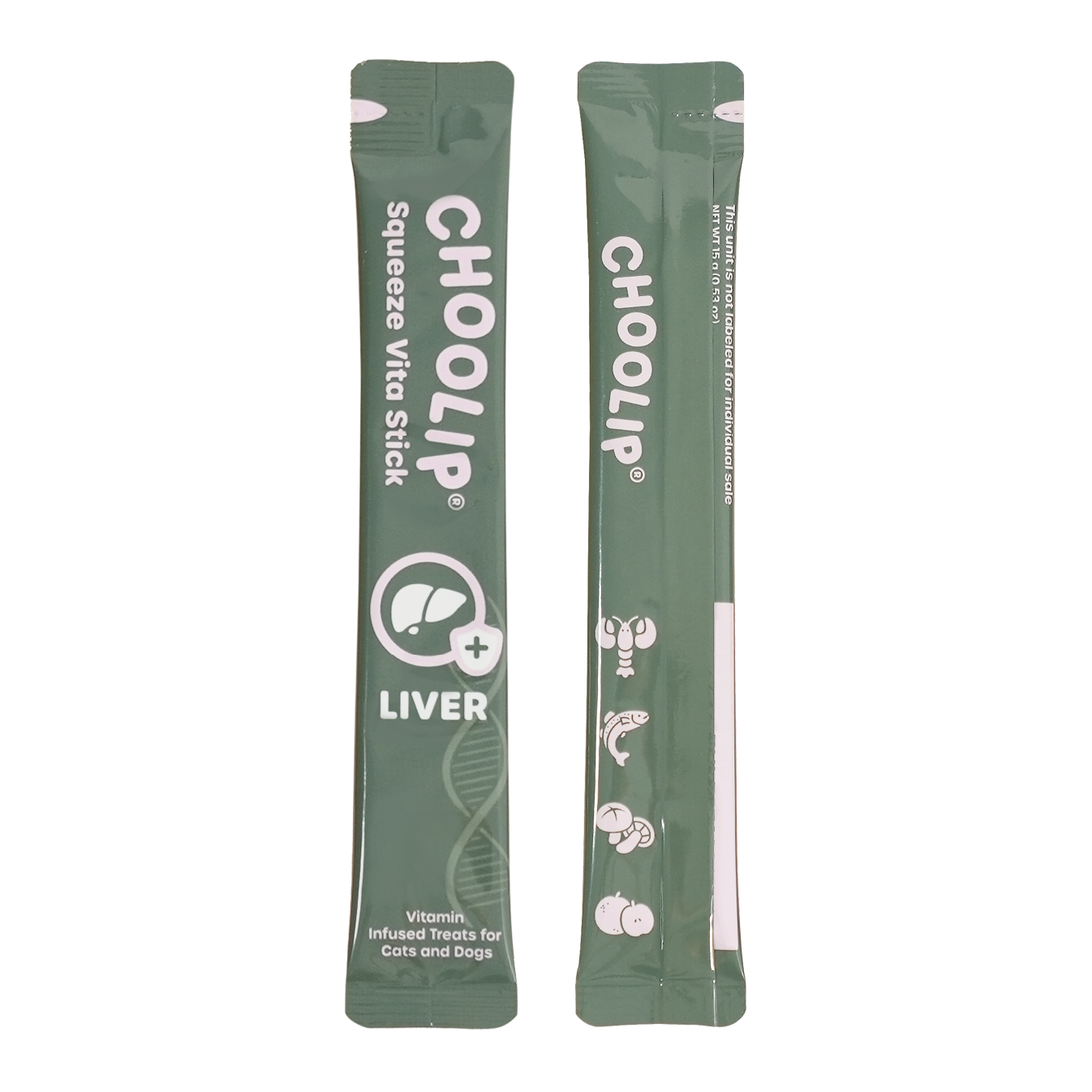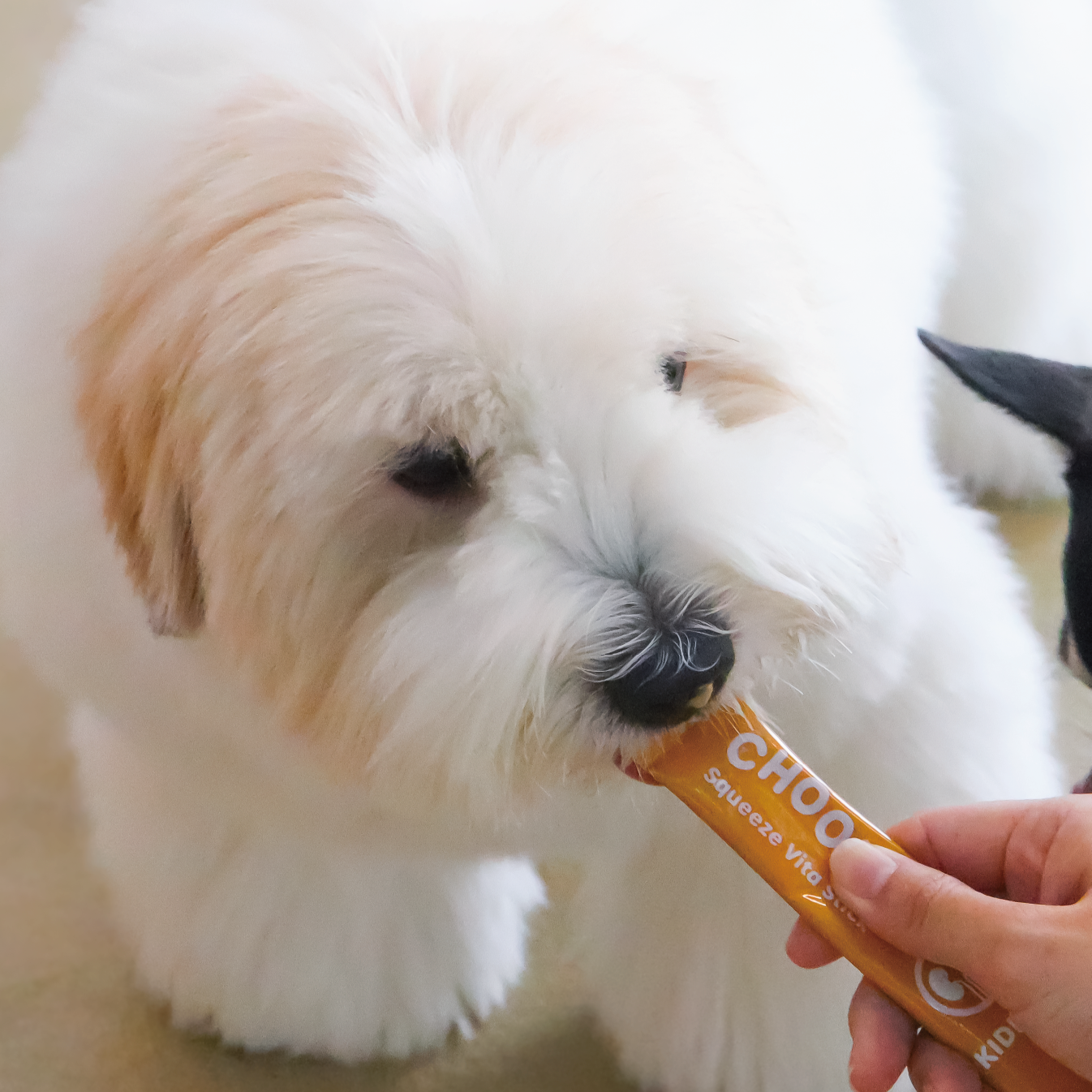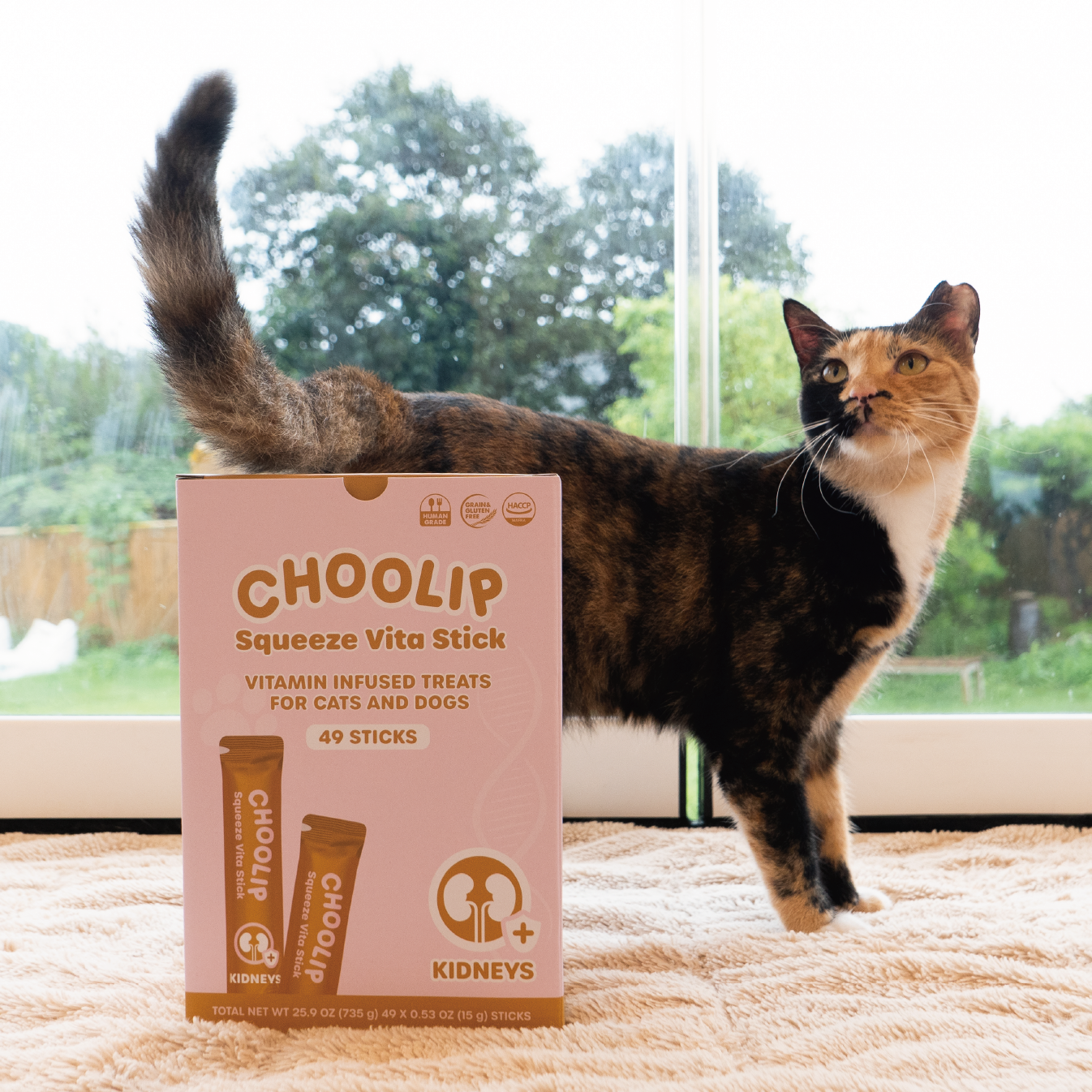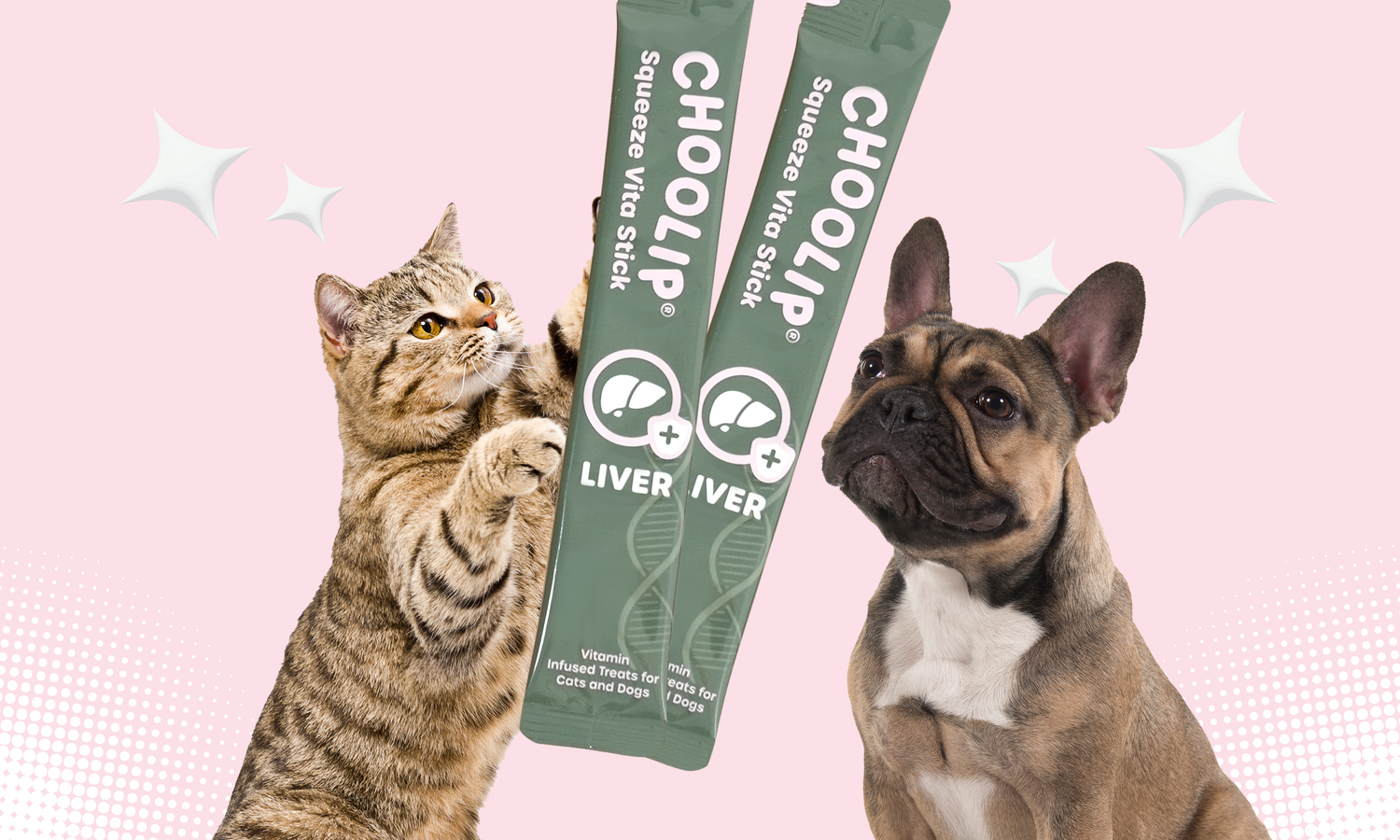 LIVER
FRESH & HEALTHY
4 Farm-To-Plate Ingredients
Fresh Caught Salmon

Salmon is a great source of omega-3's and vitamin D which support immunity, skin and coat, and joint inflammation. It is also rich in Vitamins A and E and trace amounts of Astaxanthin for antioxidant support, plus B Vitamins for all round energy for pets.

Deep Ocean Lobster

Lobster is high in protein and essential minerals for all round organ health for our pets. It's a source of omega-3's and provides a good source of copper and selenium. Lobster also contains zinc, phosphorus, vitamin B12, magnesium and vitamin E.

Savory Shiitake Mushroom

Shiitake mushrooms are high in B vitamins, and Copper, and they're a source of vitamin D. They can support cardiovascular health, fight cancer cells, improve energy, reduce inflammation, support the immune system and may reduce fatty liver.

Fragrant, Ripe Korean Pear

A good source of potassium, which helps balance sodium. Contains pectin, a support for cholesterol levels and vascular disease. It also contains aspartic acid, which helps detoxification, to maintain and restore liver function.
Loved by 200,000+ customers
Available in 7 recipes, each pouch has a smooth puree of 4 farm-fresh ingredients, rich in wholesomeness.
JOINTS

SKIN

HEART

KIDNEYS

LIVER

EYES

BRAIN
Feeding Options
Squeeze by Hand

Feed in a Bowl

Mix with medicine if necessary

Freeze & lick

Use as a Topper

As A Hearty Soup

Just Add Warm Water (not Microwavable)
5 main features
Why Choolip Squeeze Vita Stick?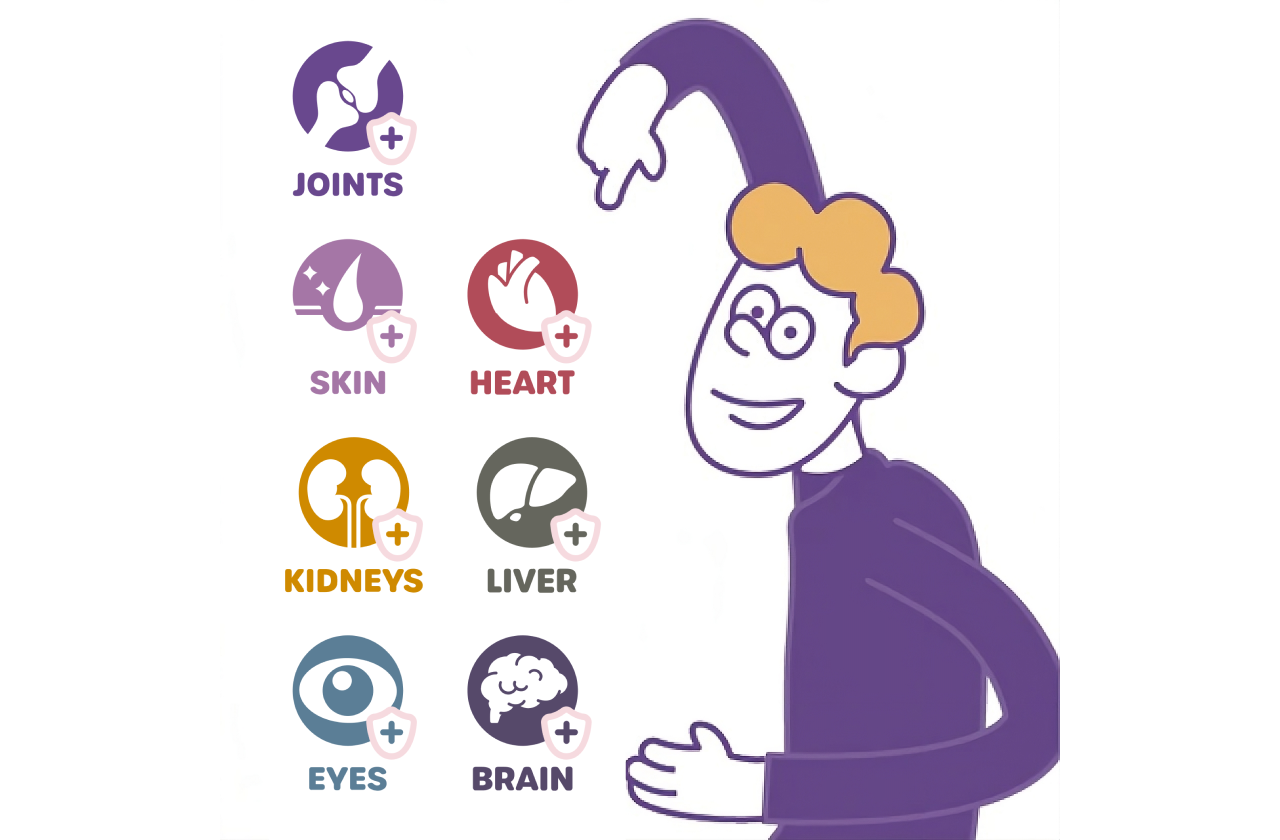 They're Vet-Formulated.
Formulated by Korean Veterinarian Dr. Eric, DVM, to support the health of his own pets. It then evolved into a convenient pet treat called Choolip Squeeze Vita Stick.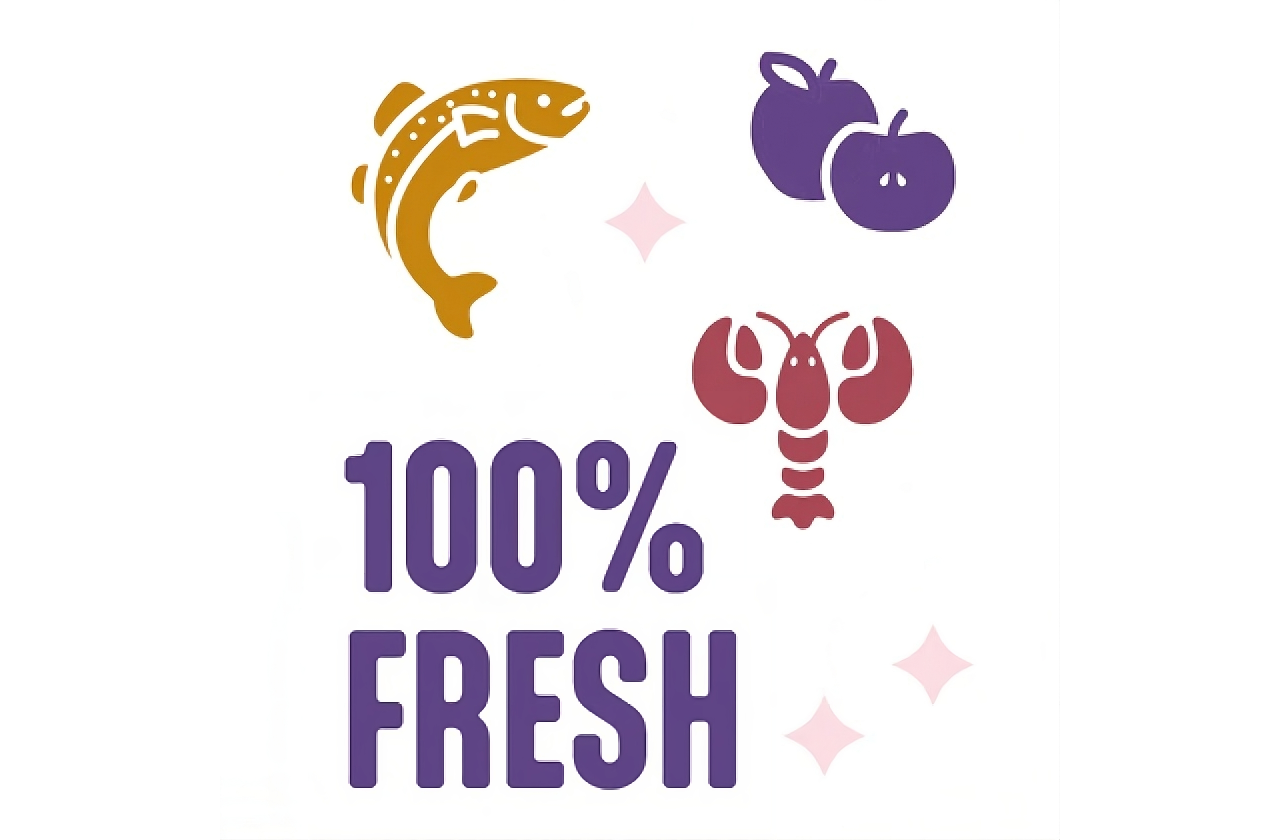 Farm-To-Plate Nutrition
Unlike most pet food, we use only the best sources and leave out the by-products. All our ingredients are sourced from farms, gardens, orchards and oceans that support the healthiest animals, fish, fruit and vegetables. Food you would normally eat!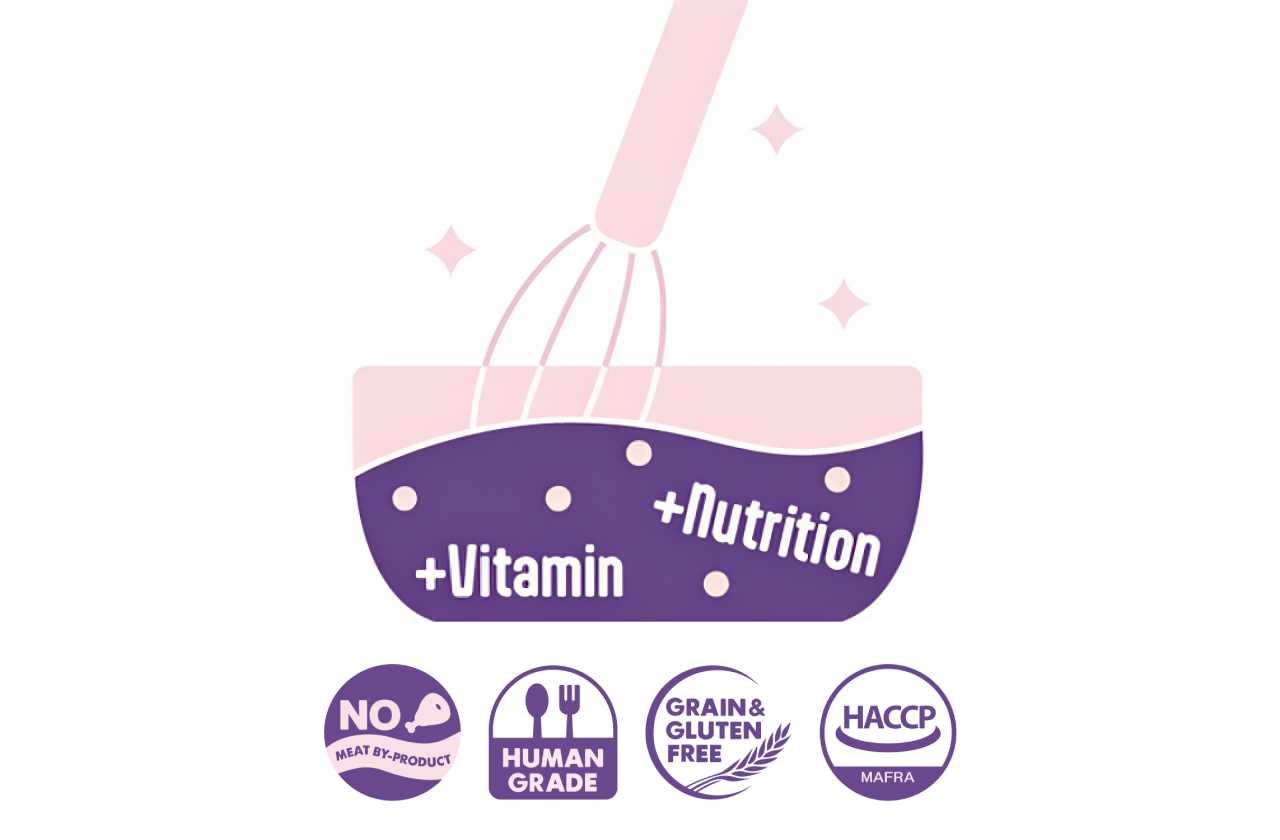 Safe and Natural Ingredients
There are absolutely no undisclosed or inflammatory ingredients. 100% Grain and Gluten Free. No carrageenan, agar, guar and xanthan gum. No additives, preservatives, flavors, artificial sweeteners. No added fats, sugars or salt. No MSG or flavor enhancers.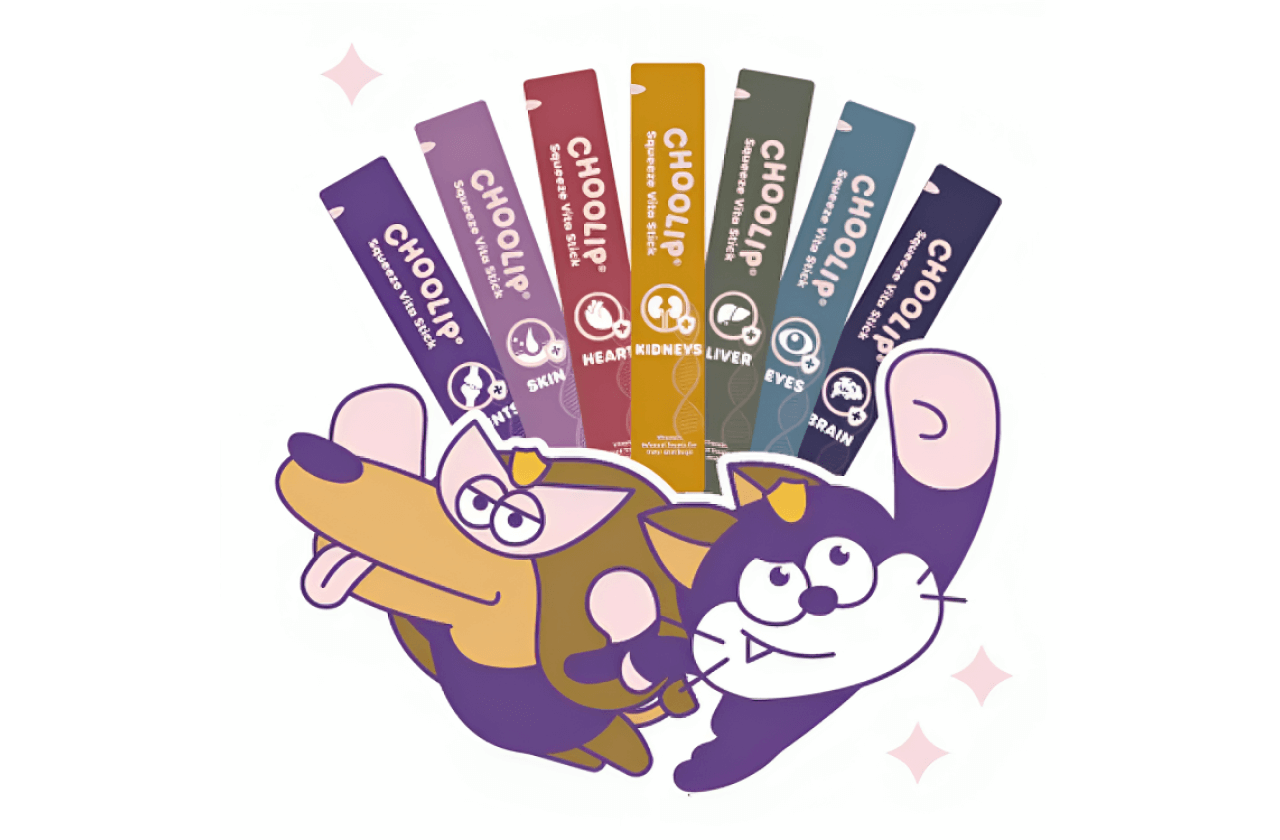 Variety of Health-Specific Sticks To Choose From
Choose from 01. Joints, 02. Kidneys, 03. Heart, 04. Eyes, 05. Skin, 06. Liver, or 07. Brain. We also have a multipack (one of each stick) that offers all round support for pets. If your pet is fussy on taste or allergic to any ingredient, choose any stick they'll love!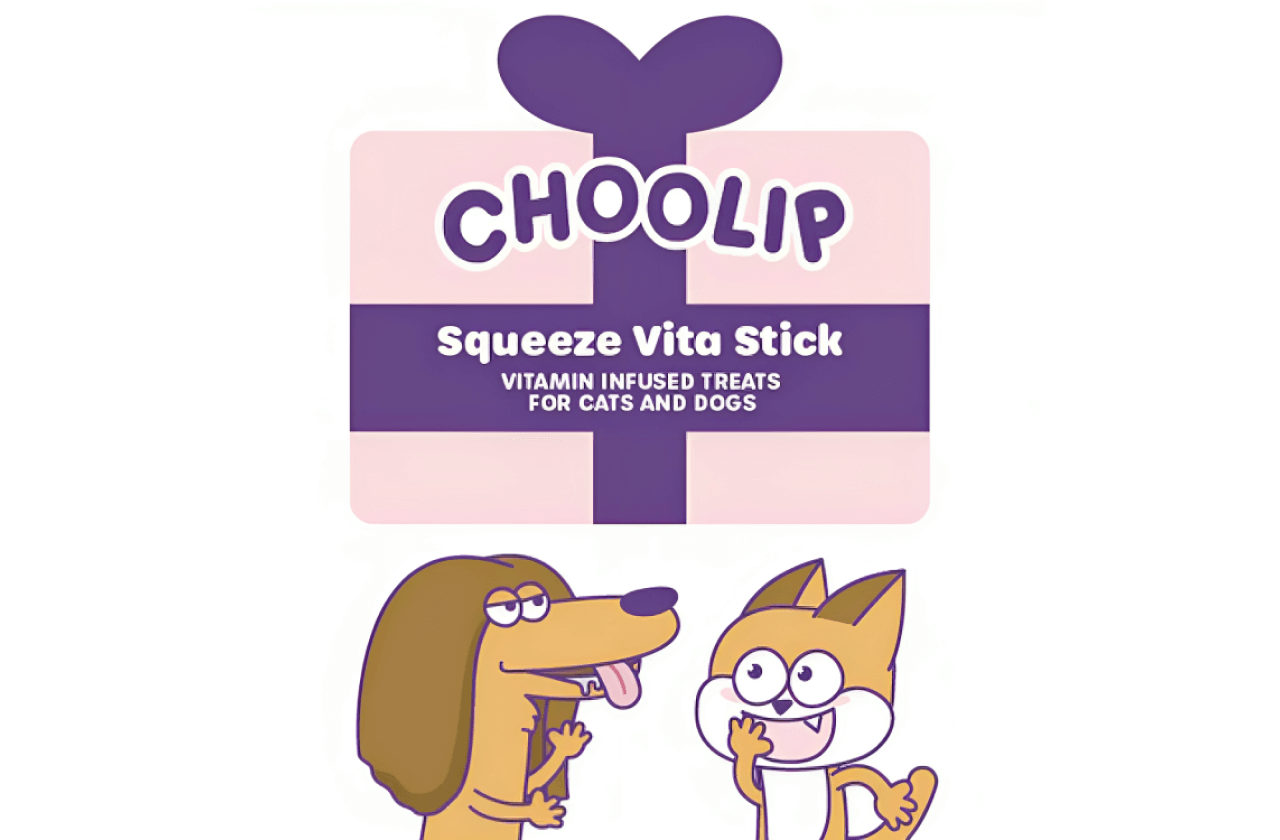 Reward, Snack or Tasty Topper?
Pets will do anything for Choolip Squeeze Vita Sticks! As a result you can use them as handfed treats, a topper on dry cat food kibble, or as a reward for not chewing up your favorite shoes today! We've listed some other great uses below. Try them all!
7 Different Types of Sticks
Salmon and Chicken with Cauliflower and Apple. Supplemented with Green Lipped Mussels, MSM and Vitamin E. BCAA's, Essential Amino Acids, Antioxidants, Vitamin K, Salmon Oil, Chondroitin, Glucosamine, Copper, Zinc and Selenium to support joint and cartilage health, bone density, and joint pain.
Caution
Feed as a treat to your cat/dog. This product is not intended to be fed as a meal. Refrigerate after opening and serve as soon as possible. Not for human consumption. Do not let cat/dog chew or swallow package material. Keep out of the reach of children and animals.
FAQs
Why do pets benefit from choolip squeeze vita sticks?

That's a great question! There are a number of reasons. 1. TREATS: If you already feed your pet treats, then Choolip Squeeze Vita Sticks are a tastier treat, one that smells better for humans, too! 2. PRE-CARE: Vita Sticks support all round health as well as health-specific conditions. And while they can't stop a disease or cure one, they fill in the nutritional gaps to give your pet the best pre-care. Just like humans taking supplements! 3. ELDERLY OR ILL PETS: Senior pets or sick pets can lose their sense of smell and/or their appetite and so Vita Sticks helps stimulate their appetite, while also providing a source of hydration and vitamins. 4. BEHAVIOR: You can use Vita Sticks for rewards, training, distraction or hiding medicine. 5. BONDING: There's nothing like sharing a lickable! It's enriching for both of you!
There are specs and grainy things inside, is this safe?

Yes! Any dots or textures you may see are a result of heating, cooking and grinding various ingredients of different textures. But every stick is always 99.9% velvety smooth puree!
The sticks are puffy and tight, can i feed it to my pet?

To prevent irritation, we don't use preservatives for Choolip Vita Sticks. Instead, our cooked and pureed ingredients are piped through a closed system straight into our sticks and sealed. But sometimes air sneaks its way into a few sticks, and they become swollen – alerting you that it is not safe to feed to your pet. Instead, contact our customer service immediately so we can send you a replacement. Thank you for letting us know!
Why does the product contain tapioca?

All squeezable products with an 80-90% moisture content like ours need a thickener, otherwise they're just liquid and messy. But as you know, most thickeners are irritating to the digestive system (think pancreatitis and enteritis) and some (like carrageenan) are carcinogenic and even used to induce inflammation in animal studies. Tapioca starch comes from the Cassava root and is gentle and smooth for thickening natural products like this.
Why are the calories higher than other similar products?

Choolip Squeeze Vita Sticks have a higher meat, poultry and fish content than many other similar snacks, and that translates to a few extra calories. But they're calories with reason! For example, our Liver recipe has 2% fat compared to our Kidneys recipe (0%) because a healthy liver requires foods with higher fat content (like salmon and lobster). All Vita Sticks contain 7-10% Crude Protein and 0-2% Fat.
What do they smell like?

Most of the pet parents in our focus groups said the smell was much better than similar snacks. From a science perspective, we believe they smell better because we use fresh ingredients, cooked immediately and then piped into our packs while still warm. This creates the same environment as you would expect a packaged soup or pasta in the grocery store. So when you open it, you experience the real aroma of the food. As for exactly what do they smell like? They're savory and meaty, without the pungent "eggy" smells of other products.
How many can i feed my pet in a day?

For a dog, up to 9lbs (1 stick), 9-18lbs (2 sticks), 18-26lbs (3 sticks), 26lbs+ (4 sticks). For a cat, up to 7lbs (1 stick), 7-13lbs (2 sticks), 13-22lbs (3 sticks), 22lbs+ (4 sticks). Of course, this is just a guide. You might have a 26lb dog who gets one stick a day for being a good boy. If you plan on treating more than once a day, consider our packs of 49 sticks for best value.
Do they contain MSG?

This is another great question. When you feed it to your cat or dog, you'll notice they'll do any trick they know just to get one lick! We are often asked if it contains MSG because of this. The answer is no. Pets will do anything for a Squeeze Vita Stick because they taste exactly like a treat should – decadent!
Testimonials
So Irresistible They'll Try and Eat The Wrapper Too.

Velvety Smooth, Creamy And Oh-So Lickable.

Vitamins That Pets Crave!

Nutrition That Tastes Like Joy & Feels Like Love.
What Our Customers Say 🐶

66 reviews
"Fantastic treat for my furry friend! Highly recommended!"

Timo

"These Vita Sticks are a life-changer! My cat goes crazy for them!"

Milo

Verified Buyer

"These Vita Sticks are a hit in our house! Our pets love them!"

Tiger

Verified Buyer

"Love these squeeze treats! My dog can't get enough of them!"

Timo

Verified Buyer

"These Vita Sticks are a life-changer! My cat goes crazy for them!"

Timo

Verified Buyer